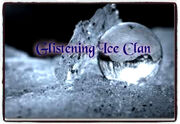 GLISTENING ICE CLAN
---
CLAN RANKS (We are combining with ShadowClan)
Leader- Crystall Star *cat name* -Crystall Star... Second in comand leader- Lilly Star *cat name*- Angela Softpaws
Deputy-  Bloody Claw *cat name* - Epic Brosif
Medic- Ocean pelt *cat name*
Head Warriors- Frost Claw *cat name* Frostheart1...2. (Trent Strongkeep)
Elder- Are none
Queens- Twilight night *cat name*
Apprentice- White paw *cat name*...Sky paw....
Warriors- CLASSIFIED ( Trying to keep our warriors Safe )
Kits- CALSSIFIED ( Trying to keep our kits safe )
---
ALLIES
Poison Oak, Dawn, StarShine, Shadow, FrozenIce, DarkBlaze, Snowdome, Darkmoon
ENEMIES
None so far (lets try not to change that -.- )
---
ABOUT TERRITORY
We are most likely changing our territory, we are now going to share with Equinox and Dark moon Clan.
---
ABOUT CLAN

We are a strong and loyal clan. Getting more members and that means a bigger family. We are mostly a kind clan but we can easily change that if you attack. The leader (me aka. Crystall Star on FR). We are fun and kind and I try to know each of the members individualy. Hope you join! Let me know on FR or on my page, my FR name is Crystall Star.
---